Austin Energy Working to Restore Widespread Local Power Outages
February 1, 2023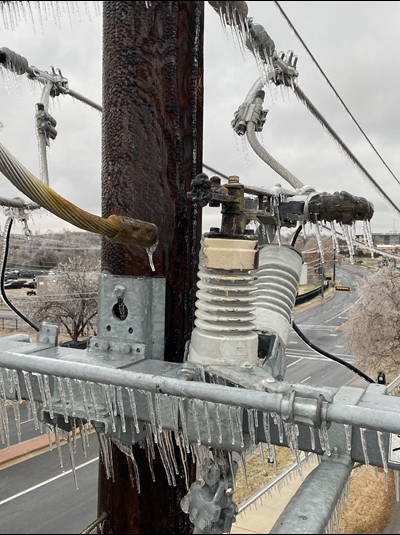 Austin Energy crews are working to restore weather-related power outages across the service area. These outages are due to severe winter weather and are not related to a statewide grid issue. Ice is accumulating on power lines, utility poles and tree limbs leading to power outages. Currently, the Austin area is seeing a quarter to a half inch of ice.
In advance of severe storms, Austin Energy prepared by securing additional staff and resources. Austin Energy is working to restore power as quickly and safely as possible, but challenging conditions may slow down these efforts. Crews are driving on icy roadways and working with frozen equipment. Based on these changing conditions, it is not possible to provide estimated restoration times. It is possible some customers may be without power for 12 to 24 hours. Austin Energy crews are prioritizing power restoration to critical organizations and working to get the greatest number of customers online in the least amount of time. Learn more about how Austin Energy restores power.
Austin Energy encourages customers to stay safe during a power outage.
Call 911 if you have a medical emergency or your life is at risk. Do not wait for your power to be turned back on.
Never go near a downed power line or touch a limb on top of a downed power line. Call 512-322-9100 to report downed power lines.
Keep space heaters at least three feet away from anything that can burn.
Report power outages and receive updates by text message. Text REGISTER to 287846 to get started. Austin Energy will send you proactive texts during outages to keep you informed. To report an outage, text OUT to 287846 or call (512) 322-9100. The outage map updates roughly every 10 minutes.
Due to the storm severity and widespread outages, Austin Energy secured mutual aid assistance from other utilities to assist in power restoration. Mutual aid provides a process for coordinating activities, information and resources with other utilities for restoration efforts.