Austin Energy Encourages Customers to Get Ready, Stay Ready and Know What to Do in Case of Future Power Outage Emergencies
June 2, 2023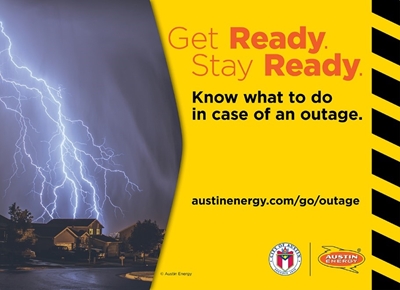 Weather disasters keep coming, with bigger storms that last longer. As Austin Energy prepares for future power outage emergencies, the utility is launching communications and educational resources to equip customers and community stakeholders with tools and resources to prepare for possible outages, too. Austin Energy encourages the community to:
"We are watching extreme weather conditions across the globe and how they hit home here in Central Texas," said Stuart Reilly, Austin Energy interim general manager. "Making sure we are all working together to prepare for possible outage emergencies is the best way we can deal with extreme weather when it comes."
Austin Energy customers and community stakeholders can visit a local Utility Customer Service Center for resources in multiple languages or go to austinenergy.com/go/outage to get ready, stay ready and know what to do in case of a power outage.
About Austin Energy
Customer Driven. Community Focused.
Austin Energy, the City of Austin's electric utility, serves more than 500,000 customer accounts and more than one million residents in Greater Austin. The utility's mission — to safely deliver clean, affordable, reliable energy and excellent customer service — has guided Austin Energy in powering the community and supporting the region's growth since 1895. For more information about Austin Energy, visit austinenergy.com.